International delivery
Ukrposhta is a member of the Universal Postal Union and cooperates with 192 national postal operators. For you, it is an opportunity to send items to 660 thousand post offices in more than 230 countries and territories of the world.
Special offer for 2023 - discounts of up to 75% on the delivery of shipments to Poland, Latvia, Lithuania, Estonia and Germany.
Reduced postal rates to Canada by up to 20%.
Do you dream of exporting with Ukrposhta but have a lot of questions?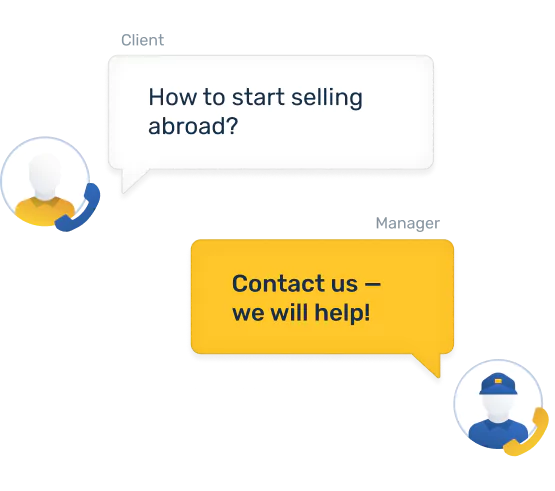 Go online - save money!
Fill out customs declarations online: through your personal account, mobile app, or a special API system for corporate clients and save money by receiving a 3% welcome discount on parcels and EMS shipments.
In case of processing at a post office, the fee for entering customs declaration data into the electronic system will be $1 per shipment.
Using international delivery services is easy:
Make sure that the attachment is allowed for forwarding
Make a shipment in your personal account or
and get a 3% discount on parcels and EMS
Contact any postal office of Ukrposhta
Weigh the item, pay for delivery in accordance with the tariff
Learn more about customs clearance
Procedure for providing services
How to sell abroad from Ukraine
A step-by-step guide that will take you from an idea to a successful business! Learn how to avoid the mistakes that destroy the business of beginners and get on the right development vector!
Partnership between Ukrposhta and DHL
For 15 years Ukrposhta has been cooperating with DHL Express, the world leader in international air express delivery. Ukrposhta's customers receive guaranteed short delivery times, convenient processing and delivery to any part of the world at special rates. Ukrposhta's customers can send documents to 50 branches and goods to the main post offices in Kyiv, Lviv, Dnipro, Odesa and Kharkiv.