Supervisory board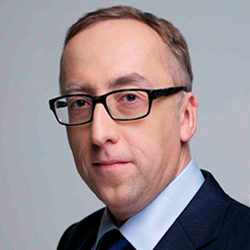 Professional in spheres of finance, industry and investment.
Main achievements:
performed duties of an independent member of the board and chairman of audit committees of government and non-government companies such as HSBC Bank Polska, PZU, Allianz Life, Allianz Investment Fund and Euler Hermes Poland;
introduced corporate management tools at PKP Group and chaired its Supervisory Board;
successfully completed the privatization process of PKP Cargo S.A.;
worked on the Pendolino project realisation — launching high-speed trains in Central and Eastern Europe. CFA Certified Financial Analyst. PhD in Economics.
He received MBA degree in University of Minnesota (USA).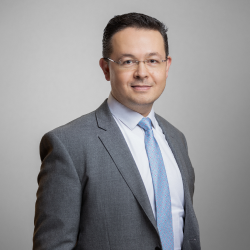 Rinat Abdrasilov
Executive Experience
Rinat is a senior partner at Cambridge Management Consulting, where he specializes in Strategy and Digital Transformation for banks and fintechs across the company's 17 countries of presence. Rinat has more than 25 years of management experience for a number of banks internationally, including 10 years of managing strategy for the Lloyds Banking Group, one of the largest banking groups in the UK. Rinat has created a digital transformation and modernization strategy for the Lloyds' retail and business banking arms, worked on prioritizing and managing investments in innovation and in optimizing the operating model.
Non-Executive Experience (independent board director)
Rinat has served on a number of Boards internationally — in the financial industry, software, education, real estate, and philanthropic organizations — both in the developed world and in emerging markets. Through all of these industries Rinat has successfully turned several businesses from loss-making positions to profitability, both in the executive roles and at the non-executive level of Boards of Directors. In addition to this Rinat is an active angel investor, trading independently on the stock exchange and working at a number of business schools as a mentor to entrepreneurs and business owners on strategy, corporate governance, investor relations and business transformation.
Rinat is a graduate of Cambridge MBA program.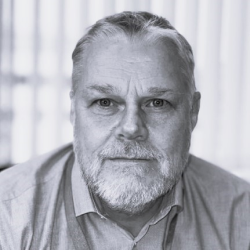 Gary John Carroll
Gary John Carroll has four decades of experience in the postal industry and international ecommerce. Well connected in the postal world, he has extensive expertise in cross-border ecommerce, international airfreight, and international logistics.
After 27 years with Royal Mail in sales roles including Head of Sales Development (Parcelforce) and International Client Director (Royal Mail), he led commercial and business development at Jersey Post. From 2016 to 2022, he was Managing Director of Asia Pacific Post, the umbrella organization of 28 postal operators which includes Australia Post, China Post, India Post, Japan Post, Korea Post, and Singapore Post.
An internationally experienced senior executive with a proven track record of delivering outstanding operational and commercial performance in challenging, complex, and highly politicized national and international organizations, Gary is currently a Management Consultant & Interim Manager at Final Mile Consulting (UK).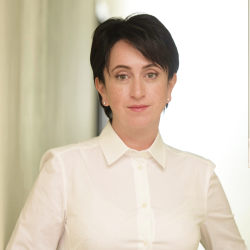 Olena Malynska
Olena Malynska has more then 20 years of top executive experience in the financial sector in Ukraine and internationally. Over the last 12 years, Olena has been CEO in large and medium Ukrainian banks, with a strong successful track record in crisis management, strategic business transformation and development, which she based on a clear looking forward perspective. As an earlier career Olena had been an auditor with Arthur Andersen in Kyiv and in Los Angeles.
Olena is actively involved in promotion of the female leadership. Olena was CEO at Women Political Leaders (WPL), and later acted as a Senior Advisor to the organization. Olena holds few Non-Executive Board mandates in organizations focused on women empowerment, financial inclusion and education.
Active member of YPO, Chair of YPO Kyiv Executive Committee since 2019, Board member of Global Diplomacy Network Executive Board. Since the full-scale Russian invasion into Ukraine, Olena has been active advocate for Ukraine and has been one of the leaders of YPO global initiative for large-scale humanitarian and business support for Ukraine. Olena is speaker at YPO international events and In Davos.
Olena holds certification in corporate governance by Insead (IDP-C), she is MBA and BA in Law, PhD.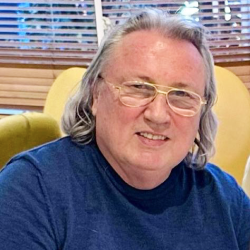 Ihor Mitiukov
Ihor Mitiukov has many years of experience in both state and corporate management, former Minister of Finance of Ukraine and the head of the Morgan Stanley investment bank Ukrainian office, a member of the supervisory boards of international and Ukrainian companies.
Main achievements:
reorganization of the Ministry of Finance of Ukraine, transition from sectoral to functional management structure;
Ukraine's début entry into international capital markets;
successful restructuring of Ukraine's national debt owed to the London Club in 2000 and the Paris Club of public lenders in 2001;
experience of interaction with IFIs (EBRD, World Bank);
practical experience in organizing the financing of large-scale investment projects in Ukraine (Euro-2012, Ukrzaliznytsia, Ukravtodor, Oschadbank, Ukreximbank, MHP, Ferrexpo, etc.);
reform of the corporate governance system in the National Depository of Ukraine and the Settlement Centre bank;
experience in diplomatic work — Ambassador Extraordinary and Plenipotentiary of Ukraine.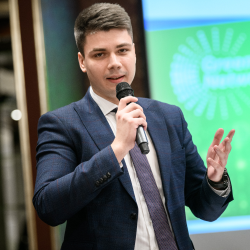 Kostiantyn Hura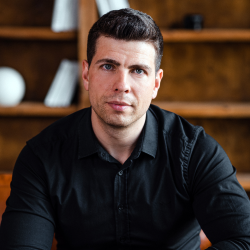 Serhii Derkach
Serhii Derkach, the Deputy Minister for Communities, Territories and Infrastructure Development.
In 2006, he graduated from the Kyiv Law Institute of Internal Affairs (specialty — "Law").
Professional activity:
In 2001–2015, he served in the internal affairs bodies, in particular as a member of the Investigative Department of the Ukraine MIA Directorate in Zhytomyr region, divisions of the Kyiv National University of Internal Affairs / National Academy of Internal Affairs.
During his service, in 2009–2011, he was the head of the Community Development Training Centre of the UN Mission in Liberia, and in 2013–2015, he was the head of the Operational Department of the UN Mission in Liberia.
In 2015–2017, he served in the Diplomatic Representation of the EU Consultative Mission on Reforming the Civil Security Sector in Ukraine, in 2017–2020, he served as an expert on anti-corruption investigations and prosecution of corruption within the framework of the Danish Ministry of Foreign Affairs ITA project "EU Anti-Corruption Initiative in Ukraine".
From 2020 to 2023, he occupied the management positions at the National Agency on Corruption Prevention (NACP), in particular as deputy chief of staff and head of the Department for Prevention and Detection of Corruption.
Since February 7, 2023, he has been working as the Deputy Minister for Communities, Territories and Infrastructure Development of Ukraine. In particular, Serhii Derkach will direct and coordinate activities to ensure the fulfilment of tasks and functions of the Ministry for the formation and implementation of state policy in the following areas:
road transport and road facility management
air transport and infrastructure, as well as the use of Ukrainian airspace
transport safety
arrangement and modernization of the state border checkpoints
technical regulation in the field of transport.
Serhii Derkach will also ensure the fulfilment of tasks and functions of the Ministry for the formation and implementation of the departmental policy of prevention and fight against corruption.
Serhii Derkach will be engaged in the management of corruption risks in the apparatus of the Ministry, at enterprises, institutions and organizations belonging to the sphere of the Ministry management, as well as in joint-stock companies, the functions of managing corporate rights in respect of which the Ministry performs.
He is also responsible for ensuring the interaction of the Ministry with the central executive bodies in matters of implementation of the departmental policy of prevention and fight against corruption, management of corruption risks.