Smilyanskyi Ihor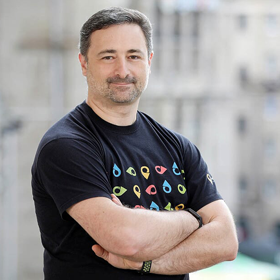 Education
Graduated with honors from Bilhorod-Dnistrovskyi School №1. Studying at school, acquired the certificate of a locksmith.
In 1992, was admitted to International Marketing Department of the Odesa State Economic University.After three-year studies, moved to the United States where he graduated from the Pace University School of Business (New York, Pace University in New York) with a specialty of accountant-auditor.
Later was awarded the law degree at the George Washington University Law School, and the MBA degree at the Georgetown University.
Work
My first job was to move boxes in a warehouse. The next one was to sell ice cream. At that time, I was playing in a professional soccer team, and my friends-soccer players and I organized an ice cream business in one of the beaches in Odesa region.
Later, my friend and I opened a bar, and this business taught me how to sleep less, because we worked from 10 a.m. to 6 a.m. every day with no days off. In addition, having mechanic skills, I worked with machinery, replacing brake pads at trucks and buses.
When I moved to the USA, I had to pay for everything myself, so I worked as a waiter, a park ranger. I often worked on several jobs, which I combined with my studying. After graduation, I started working in the specialty — as a tax specialist.
One of the first places of my work was a company located on the 101 floor of one of the World Trade Center buildings. Further I worked at KPMG, City Bank, various law firms.
In 2005, I received an offer from Boston Consulting Group in the CIS in the field of management consulting in Ukraine and Russia. From 2008 to 2010, I was a director of the merger and acquisition of an international bank, while also chairing the board of directors of three other banks. It is the merger of banks that remains the only successful in Russia so far. In 2010-2011, I was managing the merger and acquisition of Dongorbank's FUIB, which became successful in a very short time. After that I returned to BSG as a director. I was working on development strategy, major agreements in the oil and energy sector, and developing analytical strategies.
Later, in 2014, I returned to FUIB in order to help with the merger with Renaissance Capital Bank and to consider integration with other banking systems, but due to the tense socio-political situation, this area of ​​work did not develop.
In 2015, I worked at KPMG in New York.
In April 2016, I was appointed as a General Director of Ukrposhta.
The most valuable experience for me is the combination of strategic consulting and work within corporations. This makes it possible to look at the whole situation in general and make the knowledge practical.
My strength is that I have three educations: accounting, law and business, and this allows me to quickly navigate in the situation.
Hobby: soccer, tennis, travelling, diving.
Languages: Ukrainian, English, Russian.