Partnership between Ukrposhta and DHL (service suspended)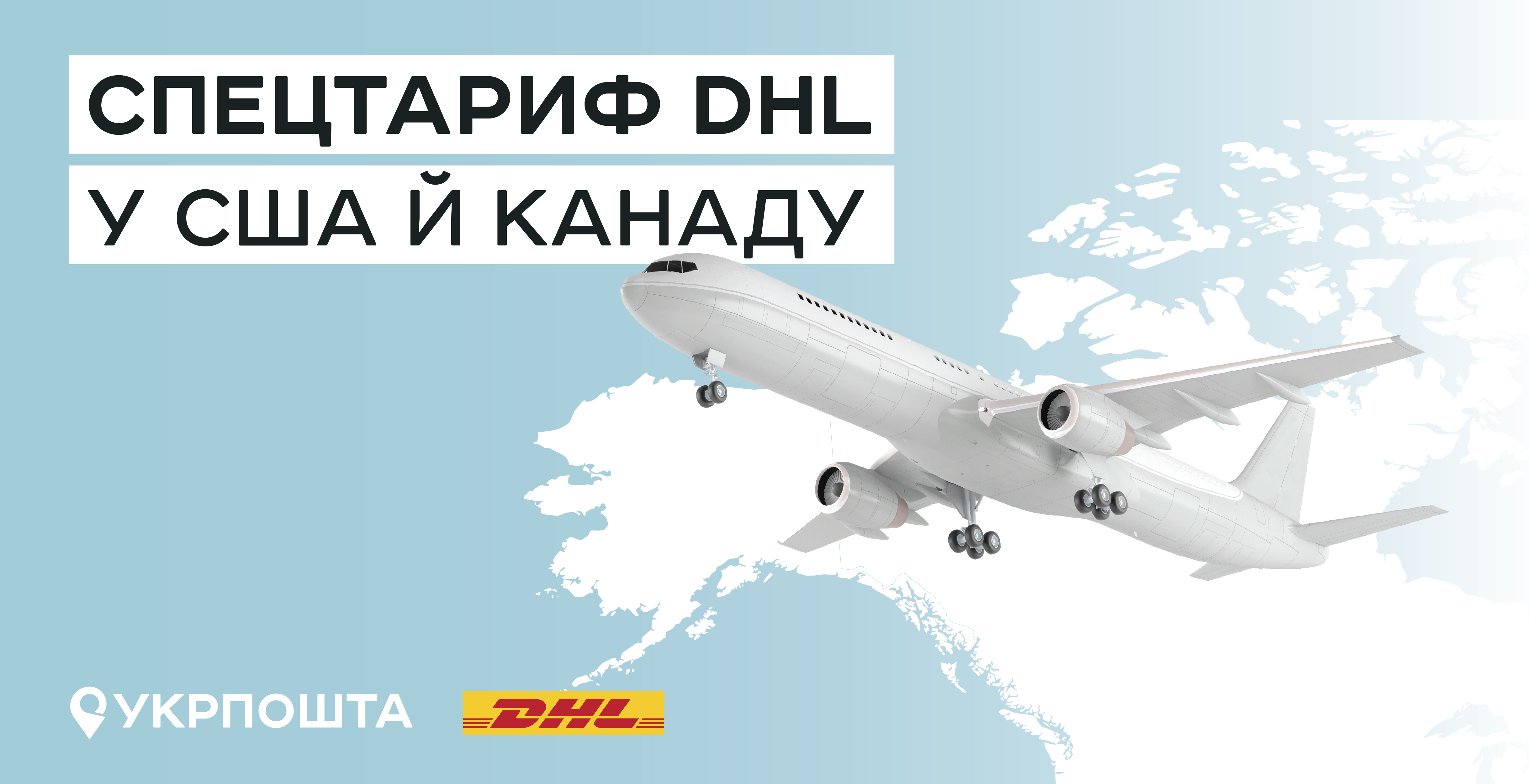 Special offer! Send DHL parcels to the USA or Canada at a discounted rate. Shipping rates:
$36 — for parcels up to 2.5 kg;
$54 — for parcels up to 5 kg;
$80 — for parcels up to 10 kg.
Delivery time — 3-4 days from departure from Ukraine. The offer is valid only for goods delivery from the Main Post offices of Kyiv, Lviv, Dnipro, Odessa, Kharkov.
The package's actual billable weight is the larger of the two: dimensional or actual weight. How to calculate dimensional weight of a parcel: length × width × height / 5000.
Example
Parcel: 2 kg, parcel size: 30 × 40 × 10 cm.
Actual weight: 2 kg
Dimensional weight: 30 × 40 × 10 / 5000 = 2.4 kg.
Dimensional weight is large than actual, so for calculation will be used 2,4 kg. The cost of delivery is 33$.
DHL express delivery in Ukrposhta offices
For 15 years, Ukrposhta has been cooperating with DHL Express, the world leader in the field of international express delivery. The users of the service benefit from guaranteed short terms, convenient design and delivery to any point in the world at special rates.
Ukrposhta customers can send documents from 54 postal offices and goods to the Central Post Offices in Kyiv, Kharkiv, Lviv, Odessa and Dnipro.
Tariffs
Check out the tariffs * at the link.
*Please, note! Surcharges to the tariff are applicable for items sent to some countries.
Terms
Delivery time for parcels and documents.
*Due to the epidemiological situation, delivery time for DHL shipments may be extended by 1-2 business days.
How to arrange a DHL item?
Check if your item is not prohibited for transportation and there are no restrictions on delivering. Check out the list of goods that can be delivered. Learn more about the allowable dimensions of items, tariffs and possible surcharges for delivery.
Prepare the necessary documents:

Proforma-invoice. Shall be filled in 2 languages (English, Russian/Ukrainian) in 4 copies. Each copy shall be signed by the sender.
A copy of the sender's passport (1, 2 pages and a page with a mark about the place of residence/visa).
Confirmation of the cost of departure (expenditure invoices, checks, labels, etc.).
For information carriers (compact discs) — an application for customs on the information carrier.
The total/invoice value of the parcel shall be indicated in EUR or in USD at the NBU exchange rate on the day of delivering.
Download the proforma-invoice and sample how to fill it out.

Pay for services, get a track number by which you can track the parcel on the website dhl.com.ua.
More information you can get in the contact centre of Ukrposhta.
Call 0 800 300 545 (free on the territory of Ukraine).